Understanding Your New MWEC Electric Bill
MWEC has introduced a new electric bill design to its members.
We hope that you find the design easier to understand, more informative,
and with new features to make managing your account easier.
If you have any questions about your account or the new bill design,
please call 1-800-279-2667.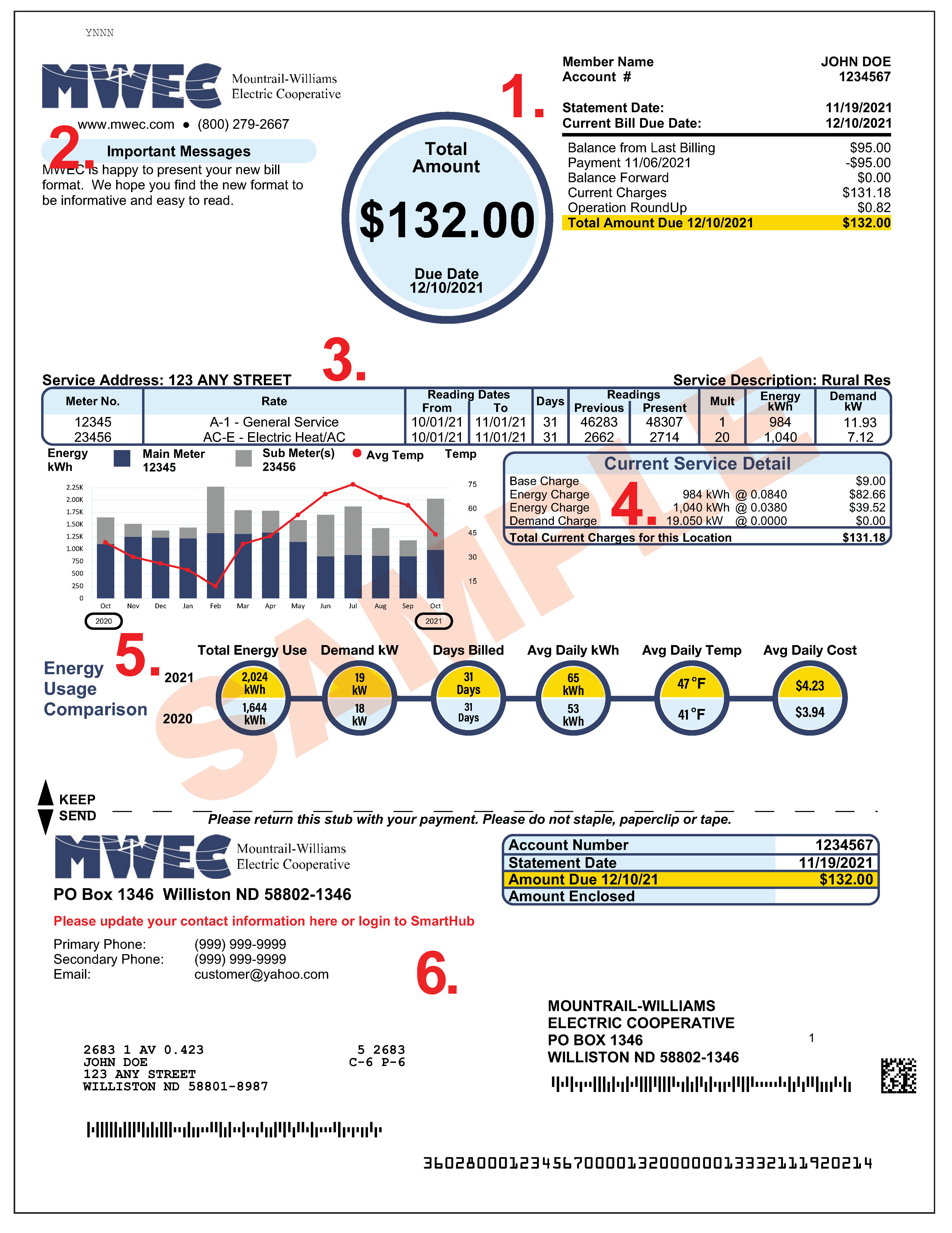 ​​​​​​
Current Amount Due




Your member/account information, current amount due, and the payment due date are located here.


 

Important Messages




Important messages from MWEC regarding your account are posted here.


 

Service/Meter Information




Service address, rate schedule, meter number, readings, energy (kWh), and demand (kW) are listed here. The number of billing days is also listed, which is important, as a smaller or larger number of days in the billing period will impact the current charges due.


 

Current Service Detail




Current charges for your ser4vice location are listed here. The current service detail will include base and capacity-related charges, energy (kWh) and demand (kW) charges, and other charges or service-related fees.


 

Energy Usage Comparison




This area includes a snapshot of your current total energy (kWh), demand (kW) usage, days billed, average daily kWh usage, average daily temperature, and average daily cost, as compared to the same period the previous year. The comparison also includes a chart tracking current and previous 12 months energy (kWh) usage and average temperature.


 

Bill Stub




Please return this stub with your mailed or drop box payment. The phone numbers and email address we have on file for you are also printed on the bill stub. If you notice they are out of date, either correct them on the bill stub before returning, update them via SmartHub, or give us a call.
ON THE BACK...
You will find important messages from your electric cooperative about programs, services, notices, and events. Also listed on the back of the bill statement are the ways that you can pay your electric bill, including a QR code linking you to a download of the SmartHub app on iTunes or Google Play Store.